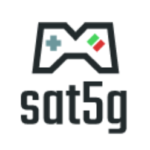 WP1 "Project Management" undertakes all project coordination activities, interfacing with the European Commission (EC), day-to-day project coordination, contract and financial management, quality control and knowledge management, and participation in 5G Infrastructure Public Private Partnership (5GPPP) meetings.
WP2 "Scenarios for Satellite Integration in 5G" will identify the scenarios and business, operational and technical requirements for the integration of satellite and terrestrial networks in the context of 5G. WP2 will also develop the business models and carry out techno-economic analysis for the SaT5G scenarios.
WP3 "Integrated Network Architecture Design" will define the reference architecture for the integration of satellite systems in 5G networks, based on state of the art space infrastructure. Architectures corresponding to the use cases identified in WP2 will be detailed. Specific requirements and technical challenges will be identified driving the research activities of WP4.
WP4 "Research to Prototype Development" will research and develop the technical enablers within the six research pillars facilitating the integration of satellite based solutions in 5G. The WP will then select the most relevant solutions for each of these features based on simulations and/or tests and develop building blocks of the selected solutions for implementation in the testbeds assembled in WP5.
WP5 "Validation and Demonstration" will build, validate and demonstrate the scenarios from WP2 that have been individually prototyped and/or bench tested in WP4 to operate within the architecture designed in WP3. The demonstration of the fixed backhaul and content delivery scenarios will take place in the 5G Innovation Centre (5GIC) testbed in University of Surrey, the mobility scenario in the Zodiac Inflight Innovations testbed in Munich and the harmonisation of 5G satcom control and user planes validation in the University of Oulu testbed in Oulu.
WP6 "Dissemination, Standards and Exploitation" will coordinate outputs from all WPs to disseminate the project outcomes and contribute towards standardisation in 3rd Generation Partnership Project (3GPP) and European Telecommunications Standards Institute (ETSI). Additionally, an exploitation plan of the project results will be put in place.